Unveiling the Future: Bridgeland's Expansion and Taylor Morrison's Thriving Developments in Cy-Fair
Posted by Rodney Jordan on Monday, November 20, 2023 at 7:30 AM
By Rodney Jordan / November 20, 2023
Comment
Nestled in Cypress, Texas, Bridgeland, the region's largest master-planned community, is paving the way for a transformative multi-decade development plan. Beyond its borders, the landscape is evolving as Taylor Morrison introduces two thriving communities, Avalon at Cypress and Mason Woods, just south of Bridgeland. With the recent unveiling of Bridge Creek's amenity center in 2022, the stage is set for an exciting year ahead, with plans to add over 300+ new homes to the Cypress community in 2023.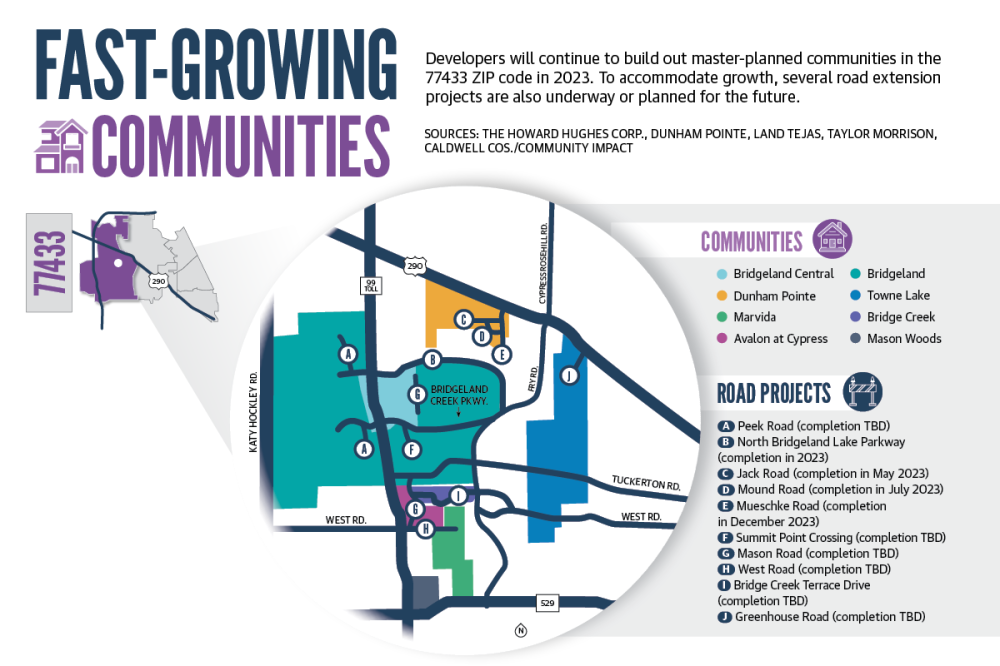 Bridgeland's Ambitious Master-Planned Community: Bridgeland stands as a testament to visionary urban planning. The master-planned community is not just a neighborhood; it's a lifestyle. With a commitment to sustainable development and a focus on enhancing residents' quality of life, Bridgeland continues to shape its future with a comprehensive multi-decade plan.
Taylor Morrison's Flourishing Communities: South of Bridgeland, Taylor Morrison has taken center stage with the introduction of two distinct communities: Avalon at Cypress and Mason Woods. These developments are more than just residential projects; they represent a vision for modern living, seamlessly integrated into the thriving Cy-Fair landscape.
Avalon at Cypress: A Glimpse into Modern Living Avalon at Cypress, one of Taylor Morrison's latest ventures, is a testament to contemporary living. Thoughtfully designed homes, complemented by state-of-the-art amenities, create an environment that fosters community and well-being. As residents settle into this vibrant community, they become part of a neighborhood that values connectivity and embraces the essence of modern living.
Mason Woods: Crafting Timeless Communities In the same breath, Taylor Morrison introduces Mason Woods, another jewel in the Cy-Fair crown. With meticulous planning and a commitment to timeless design, Mason Woods offers a unique blend of sophistication and comfort. This community is not just about homes; it's about creating an enduring sense of belonging for its residents.
Bridge Creek's Amenities Unveiled: Adding to the excitement, Bridge Creek opened its amenity center in 2022, signaling a new era for this growing community. As a vital component of Bridgeland's extended family, Bridge Creek offers residents a range of amenities that enhance their daily lives. From recreational spaces to social hubs, the amenity center is poised to be a focal point for community gatherings and shared experiences.
Looking Ahead: Taylor Morrison and Howard Hughes Corp. are set to make a lasting impact on the Cypress community. The ambitious plan includes the addition of over 300 new homes, further enriching the housing landscape and contributing to the vibrant tapestry of Cypress, Texas.